Bearing Adapter Sleeves are commonly used for locating bearings with a tapered bore onto a cylindrical seat as they can be used on plain or stepped shafts. They are easy to install and require no additional location on the shaft. When adapter sleeves are used on plain shafts, the bearing can be located at any position on the shaft. When used on stepped shafts together with an L-shaped spacer ring, bearings can be accurately positioned axially thereby facilitating bearing mounting and dismounting.
Adapter sleeves with hydraulic assistance (Hydraulic Adapter Sleeves) facilitates mounting of large bearings. Oil pumps are required to inject pressurized oil. They are provided with oil ducts on the thread side and groove on the outer surface for oil injection internal upon request, facilitating the mounting and mainly the dismounting of the assembly.

The hydraulic adapter sleeve has the characteristics of prolonging the life of the bearing and protecting the bearing. It can be used in steel construction, cement mining, textile industry etc.

HOLK Bearing has more than 20 years of experience in the production of high-quality both European Metric and American Inch Standard adapter sleeves, withdrawal sleeves, and bearing housings.

We supply premium quality bearing adapter sleeves worth more than US$500,000 to a big famous European bearing company every year.
We produce top-notch quality split plummer blocks worth more than US$1,000,000 to a big famous European bearing company every year.
Our Adapter Sleeves range covers H 2 series, H 3 series, H 23 series, H 30 series, H 31 series, H 32 series, H 39 series, and Hydraulic Adapter Sleeves of HOH 23/HOH32 series, HOH 31 series, HOH 30 series, and HOH 39 series.
The Withdrawal Sleeves range covers AH 2series, AH 3 series, AH 23 series, AH 32 series, AH 22 series, AH 30 series, AH 240 series, AH 241 series, and AH 39 series, and Hydraulic Withdrawal Sleeves of AOH 22 series, AOH 23 series, AOH 30 series, AOH 31 series, AOH 32 series, AOH 39 series, AOH 240 series and AOH 241 series, etc.
Technical Details:

Product Name: Bearing Adapter Sleeves
Series: HS 30 series, HS 3000 series
Taper: 1:12
Roughness: below Ra 2.5
Material: Carbon Steel
Surface Treatment: Anti-Rust oil; Blackening is available upon request
Packaging: Neutral, customized packaging is also available
Our adapter sleeves are supplied complete with Lock Nuts and Lock Washers. Both Metric and Inch adapter sleeves are available.
Drawing and Technical Data Sheet of HS 30 (HS 3000) series Adapter Sleeves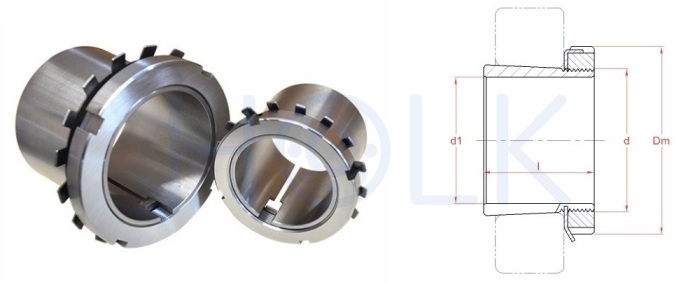 Adapter Sleeves No.
d1
d
G
l
Dm
P
Lock Nuts + Lock Washers
Bearings


mm
mm
mm
mm
mm
HS 3024
4 3/8"
120
M 120x2
72
145


KML 24 + MBL 24
1224K, 20224K, 23024K, C 3024KV
HS 3028
4 7/8"
140
M 140x2
82
165


KML 28 + MBL 28
20228K, 23028K, C 3028K
HS 3030
5 3/8"
150
M 150x2
87
180


KML 30 + MBL 30
20230K, 23030K, C 3030KV
HS 3034
5 7/8"
170
M 170x3
101
200


KML 34 + MBL 34
20234K, 23034K, C 3034K
HS 3036
6 3/8"
180
M 180x3
109
210


KML 36 + MBL 36
20236K, 20336K, 23036K, C 3036K
HS 3038
6 5/8"
190
M 190x3
112
220


KML 38 + MBL 38
20238K, 20338K, 23038K, C 3038K
HS 3040
7 1/8"
200
M 200x3
120
240


KML 40 + MBL 40
20240K, 20340K, 23040K, C 3040K
Great care has been taken to ensure the correctness of the information contained in this publication but no liability can be assumed for any incorrect or incomplete data. The HOLK technical department reserves the right to final interpretation.
The roughness of HOLK's adapter sleeves and withdrawal sleeves is generally below Ra. 2.5.

HOLK's adapter sleeves and withdrawal sleeves are supplied with anti-rust oil on the surfaces. Blackening is available upon request.