Spur Gears or Straight-Cut Gears are the simplest type of gear. They consist of a cylinder or disk with teeth projecting radially.
Spur gears transmit power through shafts that are parallel. The teeth of the spur gears are parallel to the shaft axis. This causes the gears to produce radial reaction loads on the shaft, but not axial loads. Spur gears tend to be noisier than helical gears because they operate with a single line of contact between teeth. While the teeth are rolling through mesh, they roll off of contact with one tooth and accelerate to contact with the next tooth. This is different than helical gears, which have more than one tooth in contact and transmit torque more smoothly.
Spur gears can be classified into two main categories: External and Internal. Gears with teeth on the outside of the cylinder are known as "external gears". Gears with teeth on the internal side of the cylinder are known as "internal gears".
The basic dimensions of spur gears are the diameter and pitch of the teeth, as well as the pressure angle. These dimensions can be determined through the use of mathematical calculations. The dedendum, which is the depth of the tooth space below the pitch circle, is generally larger than the addendum circle of the mating gear. The root diameter is the diameter at the base of the tooth space. Other important dimensions of spur gears include the pitch point and pressure angle, which measure the angle between the pitch circle and the plane tangent to it.
Different Types of Spur Gears

HOLK Bearing is a leading manufacturer of a wide range of power transmission products such as Gears, Chain Sprockets, Bearing Housings, Adapter Sleeves, Withdrawal Sleeves, Precision Lock Nuts, and many other bearing accessories.

We can produce a wide range of standard and bespoke gears like Spur Gears, Helical Gears, Internal Gears, Miter Gears, Bevel Gears, Worm Gears, Rack and Pinions and so on.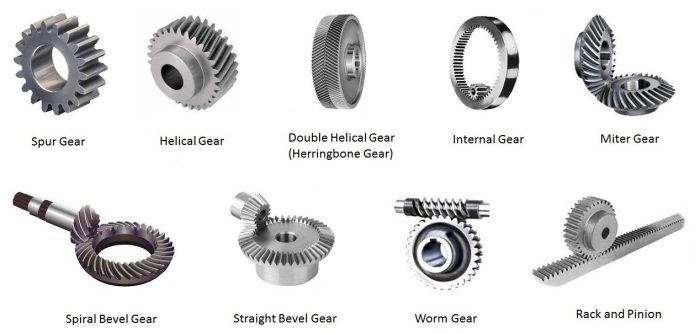 All HOLK's gears are made from top-notch quality steels and can be further adapted for high performance with coatings such as black oxide or zinc plating.
To enhance the hardness and wear resistance of the tooth surface, the tooth surface can be subjected to high frequency quenching and heat treatment, thereby increasing the life of the chain sprockets and gears.

HOLK's spur gears grant high performances on a wide array of industrial applications. Their resistance to wear and fatigue is way above the standard requirements according to relevant ISO regulation. Thanks to our top-notch production capacity, we can offer many different series and also customised power transmission products.
Aside from standard products, we can also produce special customized Chain Sprockets, Gears, Gear Racks, and many other industrial products according to customers' drawings and samples.