The Plummer Block, as known as (Split/Non-Split) Plummer Block Housing, which is an assembly comprising of a self-aligning ball bearing or spherical roller bearing placed in bearing boxes of various shapes, has a large load capacity and is easy to handle, therefore it is widely used in general industrial machinery such as conveyors.
Plummer Block Housings are manufactured from high-strength cast iron as standard but are also available in cast steel or spheroidal graphite cast iron. The housings have a re-lubrication facility and can be used with either oil or grease lubrication.

Specialising in the design and manufacture of quality bearing housings, we pride ourselves on an immediate and dedicated response to standard and special bearing housing solutions.
Our plummer (pillow) block bearing housings range covers SN 200 series, SN 300 series, SN 500 (SSN 500) series, SN 600 (SSN 600) series, SNU 500 series, S 3000K series, SD 3000 series, SD 3100 series, SD 500 series, SD 600 series, SN 3000 (SSN 3000) series, SN 3100 (SSN 3100) series, SNL 200 series, SNL 300 series, SNL 500 series, SNL 600 series, SNL 3000 series, SNL 3100 series, SNL 3200 series, SNG series, SNH series, SNK series, SAF 500 series, SAFD 5000 series, SAF 600 series, SAFD 600 series, BND series, to name just a few.
The standard material is grey cast iron. Ductile iron, cast steel and stainless steel are also available. We also produce non-standard bearing housings as per customers' specific requirements. Our plummer blocks have been sold to more than 30 countries, such as the USA, Canada, Germany, Italy, France, Spain, Russia, Argetina, Poland, Indonesia, Vietnam, Thailand etc.
We offer a full design service to any of our clients who have non-standard requirements. We also advise on the best material and manufacturing process for your requirement.
HOLK's maximum bearing housing fabrication capability: up to 5 tons/pc
Technical Details:
Product Name: Plummer Blocks, Split Type Bearing Housings
Series: SNU 500 Series
Material: Grey Cast Iron, Ductile Iron
Lubrication: Grease Oil

Painting Color: Black or customised
Applications: Drive Pulley of Belt Conveyor, Mining Industry, Heavy-Duty Machineries etc.
Features: Long life service, low noise, simple mounting, little maintenance required.
Photos of SNU 500 series Plummer Block Housings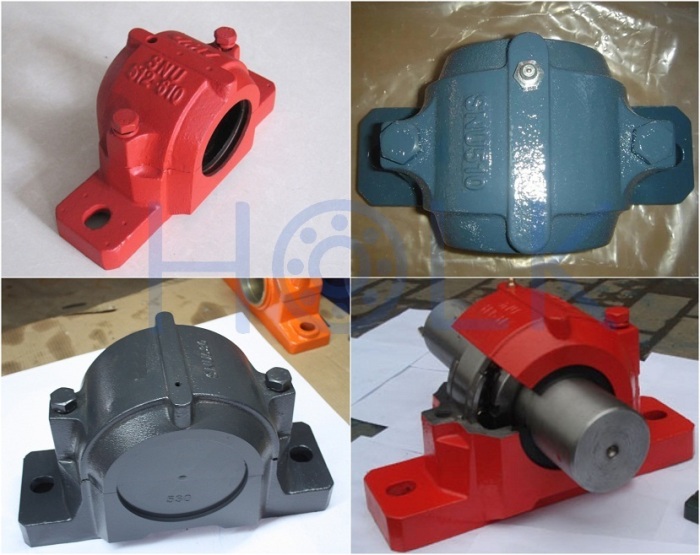 Technical Details of the SNU 500 series Plummer Block Housings

Bearing Housing No.
Shaft Diameter
Housing Wt(kg)
Bearing No.
Adapter Sleeve
Locating Ring
Number
QTY
SNU 505
20
1.9
1205K
H205
SR52x5
2
SNU 506-605
25
2.2
1206K
H206
SR62x5
2
SNU 507-606
30
2.4
1207K
H207
SR72x8.5
2
22207K
H307
SR72x5.5
2
SNU 508-607
35
3.2
1208K
H208
SR80x10.5
2
22208K
H308
SR80x8
2
SNU 509
40
3.5
1209K
H209
SR85x5.5
2
22209K
H309
SR85x7
1
SNU 510-608
45
3.85
1210K
H210
SR90x10.5
2
22210K
H310
SR90x9
2
SNU 511-609
50
5.2
1211K
H211
SR100x11.5
2
22211K
H311
SR100x9.5
2
SNU 512-610
55
6.7
1212K
H212
SR110x13
2
22212K
H312
SR110x10
2
SNU 513-611
60
7.9
1213K
H213
SR120x14
2
22213K
H313
SR120x10
2
SNU 515-612
65
7.7
1215K
H215
SR130x15.5
2
22215K
H315
SR130x12.5
2
SNU 516-613
70
11
1216K
H216
SR140x16
2
22216K
H316
SR140x12.5
2
SNU 517
75
12.7
1217K
H217
SR150x16.5
2
22217K
H317
SR150x12.5
2
SNU 518-615
80
14.8
1218K
H218
SR160x17.5
2
22218K
H318
SR160x12.5
2
23218K
H2318
SR160x12.5
1
SNU 519-616
85
15.5
1219K
H219
SR170x18
2
22219K
H319
SR170x12.5
2
SNU 520-617
90
18.4
1220K
H220
SR180x18
2
22220K
H320
SR180x12
2
23220K
H2320
SR180x9.7
1
SNU 522-619
100
24.8
1222K
H222
SR200x21
2
22222K
H322
SR200x13.5
2
23222K
H2322
SR200x10.2
1
SNU 524-620
110
32.2
22224K
H3124
SR215x14
2
23224K
H2324
SR215x10
1
SNU 526
115
39.8
22226K
H3126
SR230x13
2
23226K
H2326
SR230x10
1
SNU 528
125
48.8
22228K
H3128
SR250x15
2
23228K
H2328
SR250x10
1
SNU 530
135
56.5
22230K
H3130
SR270x16.5
2
23230K
H2330
SR270x10
1
SNU 532
140
63.5
22232K
H3132
SR290x17
2
23232K
H2332
SR290x10
1
Great care has been taken to ensure the correctness of the information contained in this publication but no liability can be assumed for any incorrect or incomplete data. The HOLK technical department reserves the right to final interpretation.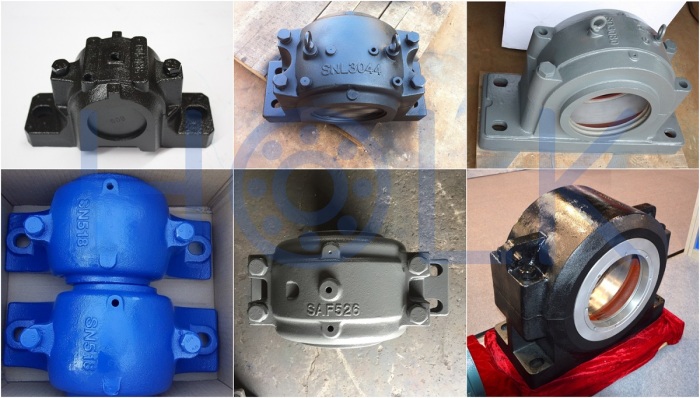 We produce top-notch quality Split Plummer Blocks worth more than US$1,000,000 to a big famous European bearing company every year.
We manufacture premium quality Bearing Adapter Sleeves worth more than US$500,000 to a big famous European bearing company every year.