Withdrawal Sleeves are often used to mount bearings with a tapered bore onto the cylindrical seat of stepped shafts. The sleeve is pressed into the bore of the bearing inner ring, which abuts a shaft shoulder or similar fixed components. The sleeve is located on the shaft by a nut or an end plate. Withdrawal sleeves give easier dismounting of the bearings, as the press fit of the bearing can be loosened with the aid of a Lock Nut applied to the withdrawal sleeve. KM or HM Lock Nuts with appropriate locking devices are suitable.
Our withdrawal sleeves are slotted and have an external taper of 1:12 except for the AH 240 and AH 241 series which have an external taper of 1:30 and are intended for using with wide bearings of 40 and 41 series.

With the same normal sleeves dimensions, Hydraulic Withdrawal Sleeves are recommended for shafts of large size sets because they are provided with oil injection gutters, making the assembling and disassembling much easier.

Lock nuts are not supplied with the withdrawal sleeves and must be ordered separately.

HOLK Bearing has more than 20 years of experience in the production of high-quality both European Metric and American Inch Standard adapter sleeves, withdrawal sleeves, and plummer block housings.
We supply premium quality bearing adapter sleeves worth more than US$500,000 to a big famous European bearing company every year.
We produce top-notch quality split plummer blocks worth more than US$1,000,000 to a big famous European bearing company every year.
Our Adapter Sleeves range covers H 2 series, H 3 series, H 23 series, H 30 series, H 31 series, H 32 series, H 39 series, and Hydraulic Adapter Sleeves of HOH 23/HOH32 series, HOH 31 series, HOH 30 series, and HOH 39 series. The Withdrawal Sleeves range covers AH 2 series, AH 3 series, AH 23 series, AH 32 series, AH 22 series, AH 30 series, AH 240 series, AH 241 series, and AH 39 series, and Hydraulic Withdrawal Sleeves of AOH 22 series, AOH 23 series, AOH 30 series, AOH 31 series, AOH 32 series, AOH 39 series, AOH 240 series and AOH 241 series, etc.

Technical Details:
Product Name: Withdrawal Sleeves
Series: AH 3 series, AHX 3 series, AH 300 series, AHX 300 series
Taper: 1:12

Material: Carbon Steel
Roughness: below Ra 2.5
Surface Treatment: Anti-Rust oil; Blackening is available upon request
Packaging: Neutral, customized packaging is also available
Features: Easy to install at any position on shaft.
Drawing and technical data sheet of AH 3 (AHX 3)/AH 300 (AHX 300) series Withdrawal Sleeves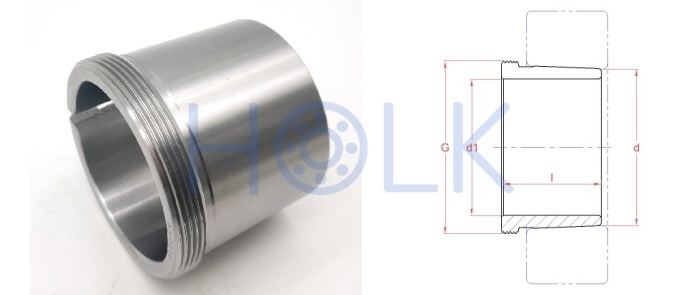 Withdrawal Sleeves No.
d1
d
l
G
Bearings
mm
mm
mm




AH 308
35
40
29
M 45x1.5
1308K, 2208K, 21308K, 22208K, C 2208K, C 2208KV
AH 309
40
45
31
M 50x1.5
1309K, 2209K, 21309K, 22209K, C 2209K, C 2209KV
AHX 310
45
50
35
M 55x2
1310K, 2210K, 21310K, 22210K, C 2210K, C 2210KV
AHX 311
50
55
37
M 60x2
1311K, 2211K, 21311K, 22211K, C 2211K, C 2211KV
AHX 312
55
60
40
M 65x2
1312K, 2212K, 21312K, 22212K, C 2212K, C 2212KV
AH 313
60
65
42
M 75x2
1313K, 2213K, 21313K, 22213K
AH 314
65
70
43
M 80x2
1314K, 2214K, 21314K, 22214K
AH 315
70
75
45
M 85x2
1315K, 2215K, 21315K, 22215K
AH 316
75
80
48
M 90x2
1316K, 2216K, 21316K, 22216K, C 2216K, C 2216KV
AHX 317
80
85
52
M 95x2
1317K, 2217K, 21317K, 22217K, C 2217K, C 2217KV
AHX 318
85
90
53
M 100x2
1318K, 2218K, 21318K, 22218K, C 2218K
AHX 319
90
95
57
M 105x2
1319K, 2219K, 21319K, 22219K, C 2219K
AHX 320
95
100
59
M 110x2
1320K, 2220K, 21320K, 22220K, C 2220K
AHX 322
105
110
63
M 120x2
21322K, 23022K
Great care has been taken to ensure the correctness of the information contained in this publication but no liability can be assumed for any incorrect or incomplete data. The HOLK technical department reserves the right to final interpretation.
The roughness of HOLK's adapter sleeves and withdrawal sleeves is generally below Ra. 2.5.

HOLK's adapter sleeves and withdrawal sleeves are supplied with anti-rust oil on the surfaces. Blackening is available upon request.