Deep Groove Ball Bearings are the most widely used bearing type and are used in various applications. These bearings have low friction and are optimized for low noise and low vibration which enables high rotational speeds. They accommodate radial and axial loads in both directions. Deep groove ball bearings are easy to mount and require less maintenance than other types of bearings.
Our deep groove ball bearings deliver reliable performance in a wide range of applications and conditions. With super-finished raceways and controlled geometries, our premium design helps ensure consistent quality. Our portfolio includes standard, thin section, narrow, wide and miniature and extra-small deep groove ball bearings that span 3 mm to 400 mm bore sizes. The extended product line includes a complete offering of open, shields, seals and snap ring combinations.
Product Name: Deep Groove Ball Bearings
Number of Row: Single Row, Double Row
Material: Chrome Steel, Stainless Steel
Precision Rating: P0, P6, P5, P4, P2
Seal Type: ZZ, RS, 2RS, OPEN
Different designs of Deep Groove Ball Bearings

Photos of Deep Groove Ball Bearings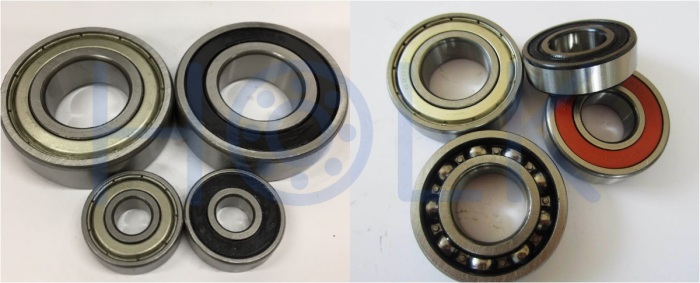 Incorporated in 1999, HOLK Bearing leads the way in producing and supplying Bearing Housings, Plummer Blocks, Pillow Blocks, Adapter Sleeves, Withdrawal Sleeves, Precision Lock Nuts, Hydraulic Nuts, Clamping Elements, Bearings and accessories.
HOLK's max bearing housing fabrication capability: up to 5 tons/pc
We produce top-notch quality Split Plummer Blocks worth more than US$1,000,000 to a big famous European bearing company every year.
We manufacture premium quality Bearing Adapter Sleeves worth more than US$500,000 to a big famous European bearing company every year.