KMT and KMTA Precision Lock Nuts are used to locate bearings in machines and equipment that require high precision such as lathes, grinders, milling machines, motors, shut-off valves, spindle and ball screws.

These nuts have 3 brass pins angularly distributed around its circumference which are tightened against the shaft by screws. The pins are machined to match the shaft thread and its tilt is equal to nut thread angle so the nuts are not subject to axial loads or deformation, allowing locking in the exact position. Although they use the same locking system, the KMT and KMTA nuts differ by the external profile and tightening tools required.
Precision lock nuts are made of Carbon steel as standard with optional choice of Stainless Steel.

Assembling
The KMT nuts are usually mounted with hook spanners, however, sizes up KMT 15 can be mounted using wrenches. The KMTA are mounted using pin wrenches or a pin-type face spanner and both of them are equipped with through-body screws. Once assembled, the bolts should be tighten lightly until each brass pin touches the shaft thread and only then tighten the screws alternately with a torque wrench until the recommended torque value is achieved for all the three bolts.
Removal
When removing the precision nuts KMT and KMTA, first loosen the three screws. Note that the brass pins can still be attached to the shaft thread, in order to proceed, tap the nuts near the pins using a copper or rubber hammer to loosen them. Only then remove the nut.
Image gallery of KMT series Precision Lock Nuts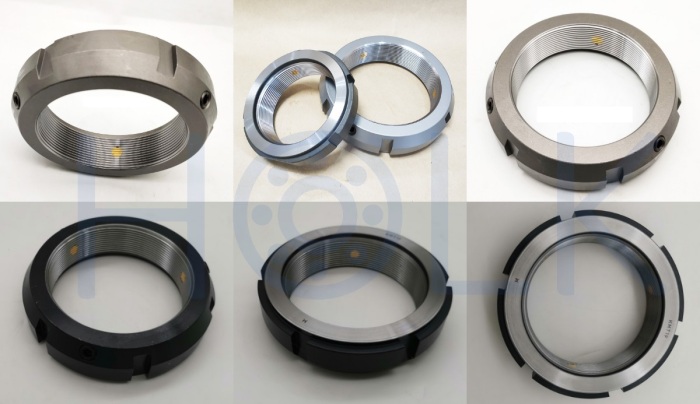 Drawing and Technical Data Sheet of KMT series Precision Lock Nuts

Precision Nuts No.
G
Dm
D
B
m
n
M
N1
N2
P
Nm
mm
mm
mm
mm
mm
mm
mm
mm
mm




KMT 0
M 10x0.75
28
23
14
4
2
24




M 5
4.5
KMT 1
M 12x1
30
25
14
4
2
27




M 5
4.5
KMT 2
M 15x1
33
28
16
4
2
30




M 5
4.5
KMT 3
M 17x1
37
33
18
5
2
34




M 6
8
KMT 4
M 20x1
40
35
18
5
2
36




M 6
8
KMT 5
M 25x1.5
44
39
20
5
2
41




M 6
8
KMT 6
M 30x1.5
49
44
20
5
2
46




M 6
8
KMT 7
M 35x1.5
54
49
22
5
2
50




M 6
8
KMT 8
M 40x1.5
65
59
22
6
2.5
60




M 6
8
KMT 9
M 45x1.5
70
64
22
6
2.5
65




M 6
8
KMT 10
M 50x1.5
75
68
25
7
3
70




M 6
8
KMT 11
M 55x2
85
78
25
7
3
80




M 8
18
KMT 12
M 60x2
90
82
26
8
3.5
85




M 8
18
KMT 13
M 65x2
95
87
28
8
3.5
90




M 8
18
KMT 14
M 70x2
100
92
28
8
3.5
95




M 8
18
KMT 15
M 75x2
105
97
28
8
3.5
100




M 8
18
KMT 16
M 80x2
110
100
32
8
3.5






M 8
18
KMT 17
M 85x2
120
110
32
10
4






M 10
35
KMT 18
M 90x2
125
115
32
10
4






M 10
35
KMT 19
M 95x2
130
120
32
10
4






M 10
35
KMT 20
M 100x2
135
125
32
10
4






M 10
35
KMT 22
M 110x2
145
134
32
10
4






M 10
35
KMT 24
M 120x2
155
144
32
10
4






M 10
35
KMT 26
M 130x2
165
154
32
12
5






M 10
35
KMT 28
M 140x2
175
164
32
14
6






M 10
35
KMT 30
M 150x2
185
174
32
14
6






M 10
35
KMT 32
M 160x3
195
184
32
14
6






M 10
35
KMT 34
M 170x3
205
194
32
14
6






M 10
35
KMT 36
M 180x3
215
204
32
16
7






M 10
35
KMT 38
M 190x3
225
214
32
16
7






M 10
35
KMT 40
M 200x3
235
224
32
18
8






M 10
35
KMT 44
Tr 220x4
265
254
36
20
10






M 10
35
KMT 48
Tr 240x4
290
279
38
20
10






M 12
60
KMT 52
Tr 260x4
310
299
38
20
10






M 12
60
KMT 56
Tr 280x4
330
319
40
24
12






M 12
60
KMT 60
Tr 300x4
360
349
42
24
12






M 12
60
KMT 64
Tr 320x5
390
379
45
24
12






M 12
60
KMT 68
Tr 340x5
410
399
48
24
12






M 12
60
Notes:
Non-Standard Precision Locknuts are available upon request.

The above data is for reference only, we may change the specs without prior notice.

1Nm = 10.2kgf.cm = 0.73lb.ft