The Plummer Block, as known as (Split/Non-Split) Plummer Block Housing, which is an assembly comprising of a self-aligning ball bearing or spherical roller bearing placed in bearing boxes of various shapes, has a large load capacity and is easy to handle, therefore it is widely used in general industrial machinery such as conveyors.
Plummer Block Housings are manufactured from high-strength cast iron as standard but are also available in cast steel or spheroidal graphite cast iron. The housings have a re-lubrication facility and can be used with either oil or grease lubrication.

Founded in 1999, HOLK Bearing leads the way in the design and manufacture of quality bearing housings, we pride ourselves on an immediate and dedicated response to standard and special bearing housing solutions.
Our plummer (pillow) block bearing housings range covers SN 200 series, SN 300 series, SN 500 (SSN 500) series, SN 600 (SSN 600) series, SNU 500 series, S 3000K series, SD 3000 series, SD 3100 series, SD 500 series, SD 600 series, SN 3000 (SSN 3000) series, SN 3100 (SSN 3100) series, SNL 200 series, SNL 300 series, SNL 500 series, SNL 600 series, SNL 3000 series, SNL 3100 series, SNL 3200 series, SNG series, SNH series, SNK series, SAF 500 series, SAFD 5000 series, SAF 600 series, SAFD 600 series, BND series, to name just a few.
The standard material is grey cast iron. Ductile iron, cast steel and stainless steel are also available. We also produce non-standard bearing housings as per customers' specific requirements.
Our plummer blocks have been sold to more than 30 countries, such as the USA, Canada, Germany, Italy, France, Spain, Russia, Argetina, Poland, Indonesia, Vietnam, Thailand etc.
We offer a full design service to any of our clients who have non-standard requirements. We also advise on the best material and manufacturing process for your requirement.
HOLK's max bearing housing fabrication capability: up to 5 tons/pc
Technical Details:
Product Name: Plummer Blocks, Split Type Bearing Housings
Series: S 3000K series
Model No.: S 3028K, S 3032K, S 3044K, S 3056K etc
Material: Grey Cast Iron, Ductile Iron
Lubrication: Grease Oil

Painting Color: Black or customised
Applications: Drive Pulley of Belt Conveyor, Mining Industry, Heavy-Duty Machineries etc.
Features: Long life service, low noise, simple mounting, little maintenance required.
Technical Details of the S 3000K series Plummer Block Housings
Bearing Housing No.
Shaft Diameter
Housing Weight (kg)
Bearing No.
Adapter Sleeves
Locating Ring
Number
QTY
S3024K
110
16.5
23024K
H3024
SR180/10
1
S3026K
115
19.3
23026K
H3026
SR200/10
1
S3028K
125
24.6
23028K
H3028
SR210/10
1
S3030K
135
29
23030K
H3030
SR225/10
1
S3032K
140
37
23032K
H3032
SR240/10
1
S3034K
150
45
23034K
H3034
SR260/10
1
S3036K
160
65
23036K
H3036
SR280/10
1
S3038K
170
67
23038K
H3038
SR290/10
1
S3040K
180
72
23040K
H3040
SR310/10
1
S3044K
200
98
23044K
H3044
SR340/10
1
S3048K
220
110
23048K
H3048
SR360/10
1
S3052K
240
148
23052K
H3052
SR400/10
1
S3056K
260
165
23056K
H3056
SR420/10
1
Great care has been taken to ensure the correctness of the information contained in this publication but no liability can be assumed for any incorrect or incomplete data. The HOLK technical department reserves the right to final interpretation.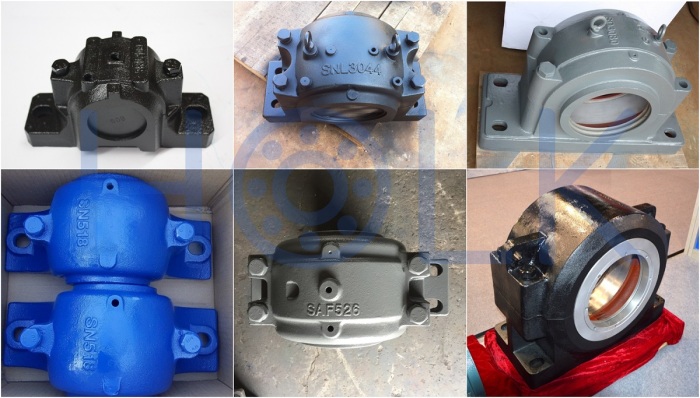 We produce top-notch quality Split Plummer Blocks worth more than US$1,000,000 to a big famous European bearing company every year.
We manufacture premium quality Bearing Adapter Sleeves worth more than US$500,000 to a big famous European bearing company every year.