The Plummer Block, as known as (Split/Non-Split) Plummer Block Housing, which is an assembly comprising of a self-aligning ball bearing or spherical roller bearing placed in bearing boxes of various shapes, has a large load capacity and is easy to handle, therefore it is widely used in general industrial machinery such as conveyors.
Plummer Block Housings are manufactured from high-strength cast iron as standard but are also available in cast steel or spheroidal graphite cast iron. The housings have a re-lubrication facility and can be used with either oil or grease lubrication.

Incoporated in 1999, HOLK Bearing leads the way in the design and manufacture of quality bearing housings, we pride ourselves on an immediate and dedicated response to standard and special bearing housing solutions.
Our plummer (pillow) block bearing housings range covers SN 200 series, SN 300 series, SN 500 (SSN 500) series, SN 600 (SSN 600) series, SNU 500 series, S 3000K series, SD 3000 series, SD 3100 series, SD 500 series, SD 600 series, SN 3000 (SSN 3000) series, SN 3100 (SSN 3100) series, SNL 200 series, SNL 300 series, SNL 500 series, SNL 600 series, SNL 3000 series, SNL 3100 series, SNL 3200 series, SNG series, SNH series, SNK series, SAF 500 series, SAFD 5000 series, SAF 600 series, SAFD 600 series, BND series, to name just a few.
The standard material is grey cast iron. Ductile iron, cast steel and stainless steel are also available. We also produce non-standard bearing housings as per customers' specific requirements.
Our plummer blocks have been sold to more than 30 countries, such as the USA, Canada, Germany, Italy, France, Spain, Russia, Argetina, Poland, Indonesia, Vietnam, Thailand etc.
We offer a full design service to any of our clients who have non-standard requirements. We also advise on the best material and manufacturing process for your requirement.
HOLK's max bearing housing fabrication capability: up to 5 tons/pc
Technical Details:
Product Name: Plummer Blocks, Split Type Bearing Housings
Series: SAF 609-613 Series
Material: Grey Cast Iron, Ductile Iron
Lubrication: Grease Oil

Painting Color: Black or customised
Applications: Drive Pulley of Belt Conveyor, Mining Industry, Heavy-Duty Machineries etc.
Features: Long life service, low noise, simple mounting, little maintenance required.
Technical Details of the SAF 609-613 series Plummer Block Housings
Bearing Housing No.
Shaft Diameter
Housing Wt (kg)
Bearing No.
Adapter Sleeve
Locating Ring
Number
QTY
SAF609
1-7/16
7.2
1309K, 21309K
HA309
SR100x10.5
2
SAF609
1-7/16
7.2
2309K, 22309K
HA2309
SR100x10
1
SAF610
1-11/16
9.2
1310K, 21310K
HA310
SR110x11.5
2
SAF610
1-11/16
9.2
2310K, 22310K
HA2310
SR110x10
1
SAF611
1-15/16
11
1311K, 21311K
HA311
SR120x12
2
SAF611
1-15/16
11
2311K, 22311K
HA2311
SR120x10
1
SAF613
2-3/16
13.3
1313K, 21313K
HA313
SR140x12.5
2
SAF613
2-3/16
13.3
2313K, 22313K
HA2313
SR1400x10
1
Great care has been taken to ensure the correctness of the information contained in this publication but no liability can be assumed for any incorrect or incomplete data. The HOLK technical department reserves the right to final interpretation.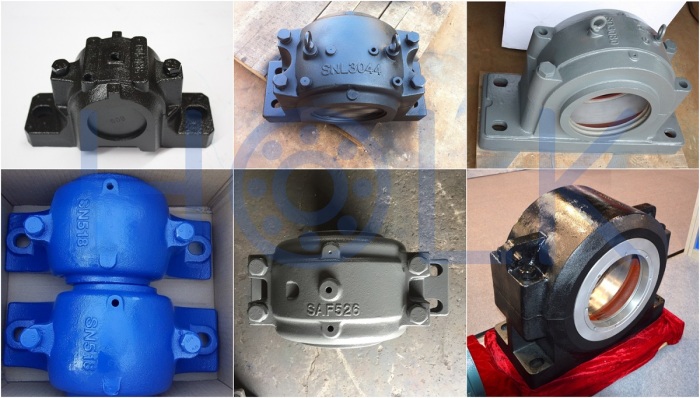 We produce top-notch quality Split Plummer Blocks worth more than US$1,000,000 to a big famous European bearing company every year.
We manufacture premium quality Bearing Adapter Sleeves worth more than US$500,000 to a big famous European bearing company every year.