The Plummer Block, as known as (Split/Non-Split) Plummer Block Housing, which is an assembly comprising of a self-aligning ball bearing or spherical roller bearing placed in bearing boxes of various shapes, has a large load capacity and is easy to handle, therefore it is widely used in general industrial machinery such as conveyors.
Plummer Block Housings are manufactured from high-strength cast iron as standard but are also available in cast steel or spheroidal graphite cast iron. The housings have a re-lubrication facility and can be used with either oil or grease lubrication.
SNL and SE Plummer Block Housings are the most popular SKF bearing housings on the market, developed to be the first choice for design, quality and economy.
SE plummer block housings are an upgrade of the SNL housing series, which have been used in many industries for many years. With many new features, the SE housing series are available in sizes range from SE 507-606 up to SE 532.
SNL & SE plummer block housings enable the incorporated bearings to achieve maximum service life with less need for maintenance. Different housing variants and seal designs are available, making the use of tailored housings virtually unnecessary and enabling costeffective bearing arrangements to be made.
HOLK Bearing leads the way in manufacturing Split Type Plummer Block Housings and Adapter Sleeves. Our plummer block housings range covers SN 200 series, SN 300 series, SN 500 (SSN 500) series, SN 600 (SSN 600) series, SNU 500 series, S 3000K series, SD 3000 series, SD 3100 series, SD 500 series, SD 600 series, SN 3000 (SSN 3000) series, SN 3100 (SSN 3100) series, SNL 200 series, SNL 300 series, SNL 500 series, SNL 600 series, SNL 3000 series, SNL 3100 series, SNL 3200 series, SNG series, SNH series, SNK series, SAF 500 series, SAF 600 series, SE series, to name just a few. The standard material is grey cast iron. Ductile iron, cast steel and stainless steel are also available. We also produce non-standard bearing housings as per customers' specific requirements.
HOLK's max bearing housing fabrication capability: up to 5 tons/pc
Technical Details:
Product Name: Plummer Blocks, Split Type Bearing Housings
Series: SE 500
Model Number: SE 515, SE 517, SE 520, SE 526, SE 530, SE 532 etc
Bearing types:
Self-aligning ball bearings

Spherical roller bearings

CARB toroidal roller bearings
Typical shaft-bearing combinations:
Plain shaft with bearing on an adapter sleeve

Stepped shaft with bearing on a cylindrical seat
Seals:
Four-lip

V-ring

Labyrinth

Heavy-duty

Felt
Mounting
Two-bolt mounting

Four-bolt mounting
Material: Grey Cast Iron, Ductile Iron, Cast Steel
Lubrication: Grease, Oil

Painting Color: Black, Blue or as per customers' requirements
Photos of SE 500 series Plummer Block Housings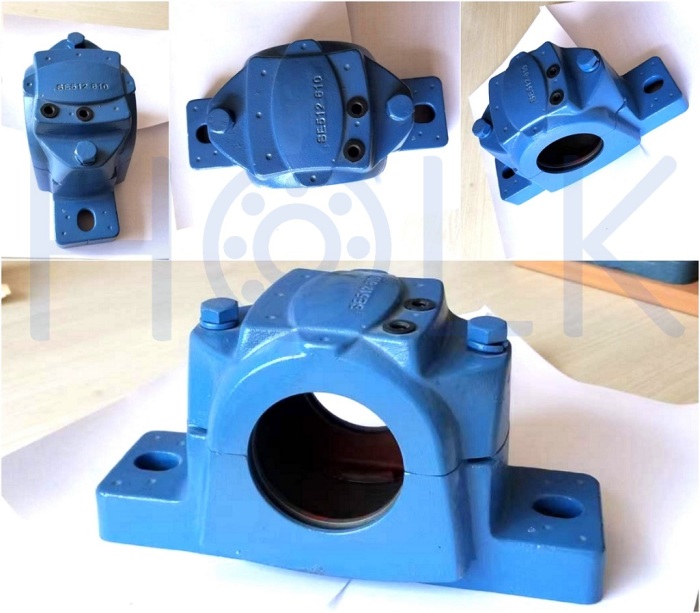 We produce top-notch quality Split Plummer Blocks worth more than US$1,000,000 to a big famous European bearing company every year.
We manufacture premium quality Bearing Adapter Sleeves worth more than US$500,000 to a big famous European bearing company every year.