The SNL 30, 31, 32 series Split Plummer Block Housings, also referred to as "Large SNL Split Plummer Block Housings", enable the bearings to achieve maximum bearing service life with minimum need for maintenance.

This supports users' efforts to further reduce maintenance costs. Among other enhancements, SNL housings are designed for easy alignment and handling during installation. Another benefit is the choice of oil or grease lubrication for the bearings housed in SNL plummer blocks.
SNL housings can be used for both the locating and non-locating bearing positions. In addition to the standard seal assortment. SNL housings in the 30, 31 and 32 series are also available with seals for large axial movements. Custom seals for special applications are also available on request.
The SNL split plummer block housings are made of grey cast iron. For applications where the strength of grey cast iron is inadequate, dimensionally equivalent housings made of spheroidal graphite cast iron (Ductile Iron) or cast steel can also be supplied. These series bearing housings are only available with four cast attachment bolt holes (series FSNLD) or without any holes in the base (series SSNLD).
Product Specs:
Product Name: Split Plummer Blocks, Split Type Bearing Housings
Series: SNL 3100 Series, Large SNL housings in the 30, 31, and 32 series
Material: Grey Cast Iron, Ductile Iron, Cast Steel
Vibration: Z1V1, Z2V2, Z3V3, Z4V4
Painting Color: Blue, Black, Green, Red, Grey, Orange or customized
Features: Long life service, low noise, simple mounting, little maintenance required.
Applications: Agricultural Machinery, Mining Machinery, Paper-making Machinery, Sugar Mill Equipment, Sawmill Equipment, Heavy-Duty Machinery etc.
Photos of SNL 3100 & SNL 3200 Series Plummer Block Housings
Drawing & Technical Data Sheet of SNL 3100 Series Plummer Block Housings
Bearing Housing No.
Shaft Diameter
Housing Wt
Bearing No.
Adapter Sleeve
Locating Ring
Number
QTY
SNL 3134
150
70
23134K
H3134
SR280X10
2
SNL 3136
160
79
23136K
H3136
SR300X10
2
SNL 3138
170
100
23138K
H3138
SR320X10
2
SNL 3140
180
130
23140K
H3140
SR340X10
2
SNL 3144
200
146
23144K
H3144
SR370X10
2
SNL 3148
220
190
23148K
H3148
SR400X10
2
SNL 3152
240
230
23152K
H3152
SR440X10
2
SNL 3156
260
260
23156K
H3156
SR460x10
2
SNL 3160
280
320
23160K
H3160
SR500x10
2
SNL 3164
300
350
23164K
H3164
SR540X10
2
SNL 3168
320
427
23168K
H3168
SR580x10
2
SNL 3172
340
458
23172K
H3172
SR600X10
2
SNL 3176
360
470
23176K
H3176
SR620x10
2
SNL 3180
380
595
23180K
H3180
SR650X10
2
SNL 3184
400
709
23184K
H3184
SR700X10
2
SNL 3188
410
751
23188K
H3188
SR720X10
2
SNL 3192
430
859
23192K
H3192
SR760X10
2
SNL 3196
450
947
23196K
H3196
SR790x10
2
Great care has been taken to ensure the correctness of the information contained in this publication but no liability can be assumed for any incorrect or incomplete data. The HOLK technical department reserves the right to final interpretation.
Specialising in the design and manufacture of quality bearing housings, we pride ourselves on an immediate and dedicated response to standard and special bearing housing solutions.
Our plummer (pillow) block bearing housings range covers SN 200 series, SN 300 series, SN 500 (SSN 500) series, SN 600 (SSN 600) series, SNU 500 series, S 3000K series, SD 3000 series, SD 3100 series, SD 500 series, SD 600 series, SN 3000 (SSN 3000) series, SN 3100 (SSN 3100) series, SNL 200 series, SNL 300 series, SNL 500 series, SNL 600 series, SNL 3000 series, SNL 3100 series, SNL 3200 series, SNG series, SNH series, SNK series, SAF 500 series, SAFD 5000 series, SAF 600 series, SAFD 600 series, BND series, to name just a few.
The standard material is grey cast iron. Ductile iron, cast steel and stainless steel are also available. We also produce non-standard bearing housings as per customers' specific requirements. Our plummer blocks have been sold to more than 30 countries, such as the USA, Canada, Germany, Italy, France, Spain, Russia, Argetina, Poland, Indonesia, Vietnam, Thailand etc.
We offer a full design service to any of our clients who have non-standard requirements. We also advise on the best material and manufacturing process for your requirement.
HOLK's maximum bearing housing fabrication capability: up to 5 tons/pc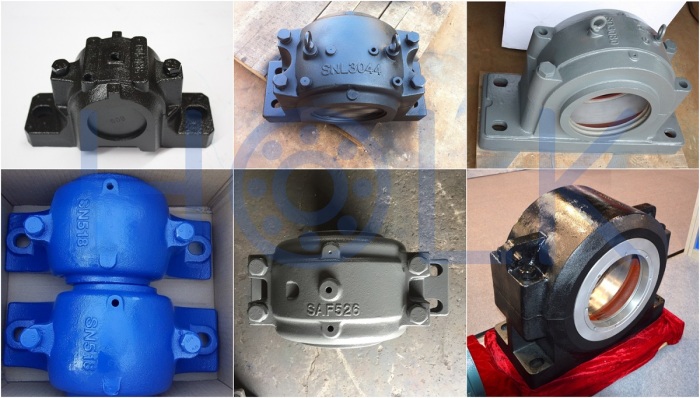 We produce top-notch quality Split Plummer Blocks worth more than US$1,000,000 to a big famous European bearing company every year.
We manufacture premium quality Bearing Adapter Sleeves worth more than US$500,000 to a big famous European bearing company every year.